Deciding which organisation or company to undertake your celebrant training with can be a daunting process. Many of our students said that they spent about two years looking around at all the options and it wasn't until they found ours, Heart-led Celebrants, that they instinctively knew they'd found gold dust.


What I would say is that if you've been looking at various training courses and have studied our website, but you can't decide whether to train with us or elsewhere, then we're not the right trainers for you. If you've read through our online information about what we offer, the course curriculum, and who your tutors are, and it's a resounding resonance, then do get in touch.


Our celebrant-training courses are unique: they are fully comprehensive, practical and based on our extensive experience in celebrancy, voice and presentation. They're also taught on a one-to-one basis. We believe that being a celebrant is serious business (this doesn't mean our work and our ceremonies don't have humour!). It means that we fully understand that a client will never have that ceremony again, and it has to be right. We strive for excellence in our work, and we hope that our graduates do too. To this end, we invite applications from people who have a strong work ethic, are creative, empathic, kind, disciplined, organised and accepting of others.


Our students have the option of training with us in person at our home in rural Cumbria or via Zoom (as did our students for two years during the pandemic). The content of the courses are the same no matter which option you choose.


With the Zoom option, we do our sessions from 9am to noon, and then there is assigned written work each afternoon to be emailed through before the next day's session. The five one-hour voice and presentation sessions will be undertaken separately.

The in-person option runs from 9am to 5pm each day, and may include the chance to shadow Veronika at a ceremony. During the day we may (weather dependent) take a walk to a local stone circle to do a handfasting ceremony or cemetery to learn the choreography of burials and eco burials. (There is also the chance to shadow one of our certified celebrants near to where you live.)


There will be role play, techniques for gathering information from clients, creative writing, voice coaching, developing presentation skills and more.

We provide comprehensive resources to augment the training. At no turn are our students and graduates left unsupported. We pride ourselves on seven-day-a-week support, a monthly group CPD session with other Heart-led graduates and celebrants-in-training, a free directory for our certified celebrants, and ongoing mentoring as and when desired.

Our teaching style is friendly, relaxed and empowering.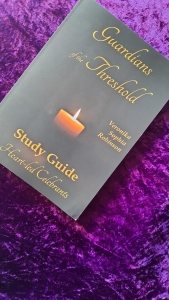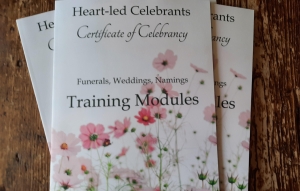 Veronika Robinson has been officiating ceremonies, across all rites of passage, for 27 years. Alongside her husband Paul, she's co-founder and co-tutor at Heart-led Celebrants, a boutique celebrant-training school based in Cumbria, England. Their students come from around the world for training. She has a Master's Degree in Creative Writing from the University of Cumbria, and generously shares her writing knowledge with her students. 
https://heartledcelebrants.com/wp-content/uploads/2021/11/celticcross.jpg
206
366
veronika
https://heartledcelebrants.com/wp-content/uploads/2021/01/Heartled-Celebrants-Logo-header.png
veronika
2023-02-17 20:36:15
2023-02-17 20:44:22
What To Expect On Our Celebrant Training Courses