With the avalanche of new celebrant-training organisations starting up, it is quite a process for anyone trying to differentiate between brilliant, good, okay, mediocre and downright terrible training courses on offer. Where do you even start?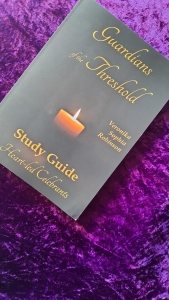 There are different reasons why you might be drawn to a particular training. It could be to do with the tutors, or that you can get a government-backed loan, or that a training course is running in your area or on dates when you're free. Maybe it's the one highest in Google's paid adverts. My advice is to search extensively until you feel that one, in particular, really resonates with you.


Here are five reasons why someone might choose to train with us at Heart-led Ceremonies Celebrant Training

Real-life and extensive experience
Your tutors have extensive industry experience. Veronika has worked as a celebrant, internationally, since 1995. She remains a working celebrant, accepting a limited number of ceremonies each year, so that she can keep abreast of industry changes and share this in her training.
Paul has also been a celebrant since the mid nineties; but significantly, as Voice and Presentation Tutor, he brings decades of experience on how to best use your voice. His expertise and experience is incomparable.

Bespoke training
Although the nature and content of the course material shared with each student is the same, each student's learning style and life experiences are taken into consideration. This allows us to tailor the training to best meet each person's optimal learning experience. It's not a one-size-fits-all training.


Heart-led tutoring and comprehensive training materials
The training, while taking place on Zoom (since March 2020), is personalised and on a one-to-one basis (though two people who know each other are welcome to train together). It is led from the heart, about the heart, and for the heart. This is augmented by comprehensive training materials based on the various modules. The training offered is practical, creative, inspirational, intensive and will ensure that only the best of celebrants carry the Heart-led Celebrants logo. All students have their work rigorously assessed.
This is the only celebrant training in the UK with integrated, personalised and specialised voice and presentation sessions rather than as an adjunct or post-course option. Certificates are based on aptitude not attendance. ALL students are required to submit their written modules, and to have undertaken all voice and presentation sessions, within twelve weeks of the face-to-face training. We set this due date to ascertain each student's commitment to submitting work of a professional standard on time. This ability to work creatively and competently to deadlines is essential in the celebrant industry.



Discrimination-free
We practise and teach discrimination-free celebrancy.


Aftercare
All of our successful graduates receive as much or as little support as they desire. This includes joining our monthly group CPD sessions, shadowing opportunities, follow-up mentoring as and when needed, script assessment after certification if desired, seven-days-a-week tutor support by phone, email or Messenger.
It breaks my heart when I hear of celebrants who've trained elsewhere left floundering due to poor or inadequate training and the training defaulting on their promise of after-care support.

We encourage all would-be celebrants to thoroughly research any training organisation that appeals to them, and to be relentless in asking questions.





Remember:
. A slick corporate front door is no guarantee of quality training.
. Boasting government-backed training qualifications is NO guarantee that the 'content' of the course will equip you to be the best celebrant you can be (it merely shows that the organisation is following recommended training guidelines).
. Price is NOT a guarantee of excellence in training.



If you'd like an obligation-free chat about Heart-led Ceremonies Celebrant Training or a booking form, do get in touch. I wish you a wonderful day. Veronika x
https://heartledcelebrants.com/wp-content/uploads/2022/02/20220203_095818.jpg
1125
2000
veronika
https://heartledcelebrants.com/wp-content/uploads/2021/01/Heartled-Celebrants-Logo-header.png
veronika
2022-02-20 17:36:27
2022-02-20 17:43:28
Celebrant Training: Five Reasons to Train as a Heart-led Celebrant