Well hello! It's World Celebrants Week. You can imagine that for celebrants it is a rather exciting time because we get to showcase why we love this job so much. It's certainly different to other jobs in many ways.


As someone who has been officiating ceremonies for 27 years now (half my life!), I have a thing or two to say about this vocation/career.

My own celebrant experience has seen me officiate internationally, and across all rites of passage. I've learnt what works and what doesn't work. I'm able to give direction to a client, and able to take direction.

It was only natural that at some point I'd want to share my experience and expertise. After all, I won't be alive forever.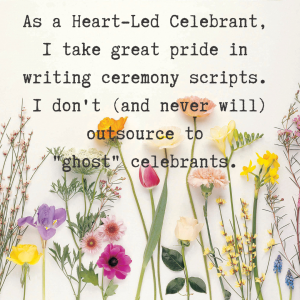 For five years now, my husband Paul (voice and presentation coach, and celebrant) and I (Veronika Robinson) have been offering celebrant training. We receive such joy from watching the celebrants-in-training take off into wonderful careers whereby they are of service to others. Each of these Heart-led Celebrants is a beacon in this world, shining their light and offering love, empathy, kindness, creativity and care.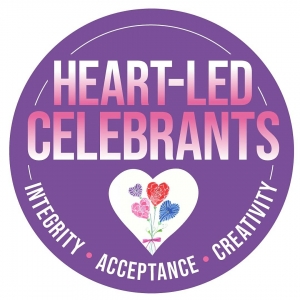 Celebrant life boasts many wonderful aspects: listening to people's stories; variety; different work places each day; being of service; new friendships; creativity and so on. It's not an easy job, though. We might make it LOOK easy but that only comes through our superpowers and skills (and excellent training). There are many times when it is far from easy: officiating the service of a young person or death by suicide; sitting with the bereaved who are too grief stricken to speak; working to tight deadlines; filling in for other celebrants at short notice; working when you're tired or ill, and so on.


It's also a job where we receive thanks in ways that we might not hear so fully in other jobs.
I am so grateful for all the people who've come to us for celebrant training. Together we've created a wonderful, dynamic movement of independent Heart-led Celebrants. If you'd like to learn more about celebrant life, this is a great week to look up the hashtags #worldcelebrantsweek2022 #wcw2022 or #heartledcelebrant #heartledcelebrants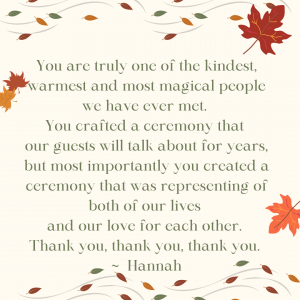 Veronika Robinson has been officiating ceremonies, across all rites of passage, for 27 years. She loves her role, and derives great pleasure from training new celebrants via Heart-led Ceremonies Celebrant Training. 
https://heartledcelebrants.com/wp-content/uploads/2022/11/20220203_095818.jpg
1125
2000
veronika
https://heartledcelebrants.com/wp-content/uploads/2021/01/Heartled-Celebrants-Logo-header.png
veronika
2022-11-17 12:18:12
2022-11-17 12:25:03
World Celebrants Week 2022